Specialist False Ceiling Installation & Repair Services
When you engage direct contractor A Plasterceil (Singapore), there's no middleman-markup. So, you save at least 15% on costs.
Our false ceiling installation and repair services have helped many home-owners and businesses in Singapore to improve the appearance of their properties and cut running costs.
A Plasterceil installs and repairs various types of suspended ceilings in landed houses and HDB flats and in commercial premises including offices, shops, and restaurants.
Our residential false ceiling services have enhanced countless kitchens, bedrooms, living rooms, and bathrooms in homes across the island, while our drop ceiling services for businesses have improved the environment of many commercial buildings, for both staff and customers.
Our false ceiling contractor services are backed by more than 20 years' experience in residential and commercial renovation, including installation and repair of acoustic ceilings and fire-rated ceilings.
A Plasterceil offers comprehensive false ceiling installations and repairs, providing extra services such as:
Dismantling and disposing of your old false ceiling.
Painting your new plasterboard ceiling in the colour of your choice.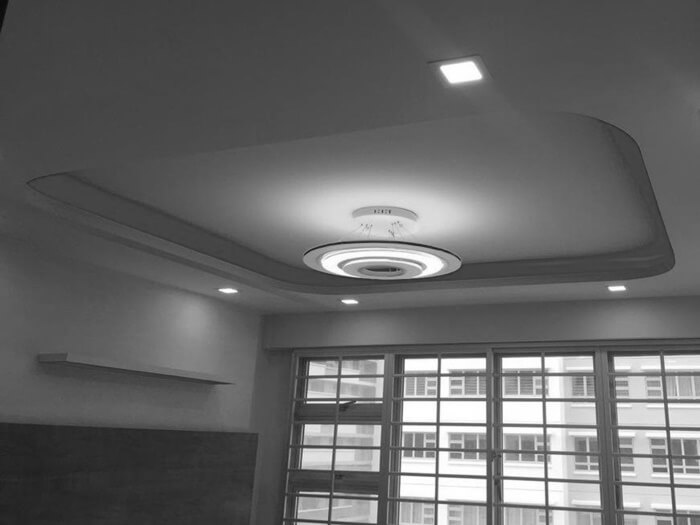 Why hire A Plasterceil as your false ceiling contractor

Householders and businesses choose our false ceiling and drywall contractor services because of our reputation for:
Affordability – we offer direct false ceiling installation and repair services that avoid the extra expenses of a middle man such as a general contractor.
Reliability – we pride ourselves on getting the job done on time and within budget.
Using premium materials.
Technical expertise and precision craftmanship.
Commitment to exceeding our customers' expectations.
Benefits of residential and commercial false ceilings

A quality false ceiling transforms the interior look and feel of a property and helps to reduce power costs while potentially increasing the value of your home or business premises.
Suspended ceilings not only conceal infrastructure like wiring, pipes and ductwork, and hide problems such as structural damage, but also play a key role in interior design aesthetic considerations – they can add an attractive texture to a space and incorporate practical and decorative touches such as lighting and fans.
In reducing the height of a room by being installed beneath the original ceiling, false ceilings cut energy costs – your air conditioning won't have to work so hard. Suspended ceilings also lend themselves to installation of energy-efficient lighting such as LED (light-emitting diode) systems.
If your concrete ceiling is damaged, covering it with a false ceiling can be far less costly than repairing it.
A Plasterceil customers find that the advantages of suspended ceilings far outweigh the obvious drawback that a drop ceiling lowers the height of a room, and we can advise you on how to ensure optimal height for your false ceiling.
Save at least 15% on your gypsum board ceiling and partition installation!
When you hire A Plasterceil, you're engaging an experienced and proficient direct contractor specialising in drywall works. Because middleman fees are cut out, you would enjoy substantial savings.
Types of false ceilings A Plasterceil installs

We supply and install a range of drop ceilings, including:
Plaster ceiling installation. Plain plasterboard false ceilings are popular in homes and provide an ideal surface for sophisticated finishing touches such as ornate pelmets, cornices, and coving.
Grid ceilings. Often found in offices and other commercial premises, grid ceiling installations can take the form of a visible grid into which panels are set or a grid construction that's concealed by tiles.
A Plasterceil also supplies and installs acoustic ceilings and fire-rated ceilings.
Acoustic ceilings

Acoustic ceilings are becoming increasingly popular in homes and businesses as an affordable means of dampening ambient noise to create a quieter and calmer environment.
Incorporating individual panels of sound-absorbing material, acoustic ceilings work particularly well in rooms with hard flooring, where sound would otherwise bounce around.
Our acoustic ceilings offer a wide variety of aesthetic options and can be customised with different designs and textures.
They also have high light-reflecting properties, which can reduce your lighting bills.
Fire-rated ceilings

A Plasterceil uses the best false ceiling materials that provide effective protection in the event of a fire by helping to prevent flames and smoke from spreading to higher levels of your property.
We install fire-resistant gypsum board ceilings – mainly in industrial buildings – with a fire rating of 1 hour or 2 hours (the length of time they can resist combustion) that come with a PSB Declaration of Compliance certificate, a regulatory requirement.
Our false ceiling repair services
If your false ceiling sustains damage, it can ruin the appearance of your home or business establishment, and pose the risk of injury through pieces falling off.
Lightweight replacement ceiling panels are relatively inexpensive and can be quickly fitted by our false ceiling repair specialists while taking care to avoid further damage to surrounding areas.
Common problems that A Plasterceil routinely fixes in drop ceilings include stains, cracks, sagging, and peeling paint.
Issues like these are typically caused by water leakage, moisture accumulation, poor construction, and sub-standard materials leading to insect infestation or fungal growth.
Being a reliable false ceiling repair contractor, we use only premium materials in restoring your ceiling to pristine condition.
Our false ceiling Singapore prices

Our direct false ceiling installation and repair services are competitively priced because we eliminate the added expense incurred going through a middle man.
As direct false ceiling contractors, we can also maintain high standards of quality control, ensuring you get good value for your money.
Gypsum board false ceiling

or plaster ceiling price – starts from S$2.50

Grid false ceiling price – starts from S$2.50
Contact us now to find out more about how our expert false ceiling installation and repair services can reinvigorate your home or business premises and help to save you money by reducing electricity bills.
Tell Us Your Requirements
Monday – Saturday: 9 am – 6 pm
Otherwise, you may send an email to [email protected] or use our online form. You'd receive a response from us within 2 business days.
A Plasterceil Pte Ltd
UEN: 201701044Z
67 Sungei Kadut Street 1
#BK-A9 Sungei Kadut Industrial Estate
Singapore 729369
Mon-Sat: 9:00 a.m.-6:00 p.m.